1
« on: June 04, 2021, 12:24:07 PM »
EDITORIAL

We hope everyone is having a great beginning to their Summer, depending on where you are in the world!

With the weather getting better, what are your plans for the summer? Are you vacationing, staycation-ing, or just relived that you can start to be out and about again? We've got some great topics to keep you entertained this summer, with interesting articles to keep your summer!

We've had beer threads before, which is a notorious companion of the hotter weather. Cooking threads that you can cook on the barbecue and have some great games that you can play (but make sure you get some sunny weather too).

Let us know in the comments if there are any activities you enjoy in the summer!

'Enjoy your stay!' and why not let others know about Exilian too? We're a strong community with some really cool projects happening!


CONTENTS:

---
---
The Exile Princes by Jubal
FACTIONS
Do you like turn based strategy/RPG? This is for you! Brought to you by Jubal this experience lets you traverse the Exile realms alongside your warband/army searching for lost treasures, fighting enemies, monsters to protect the supremacy of your house!

With an end goal to make a name for yourself among the cities, where your reputation speaks for itself. You can do this by getting names the city's protector, winning control of the city, or capturing the city by force. This is a game you don't want to miss.

Key features:
- Medieval art

- Monsters
- Tilesets
- Obscure Exilian or pop culture references

Join today and let the games begin!


---
Skald: Against the Black Priory
Skald: Against the Black Priory' combines an 8-bit look and feel with modern RPG and narrative design to create a classic fantasy-horror RPG experience not to be missed. In this dark fantasy world, you must come up against brutal violence and cosmic, lovecraftian horrors and monstrosities as you and your companions battle your way forward and search for the dread truth that lies at the heart of the island, and mystery, that you have set sail towards. With turn-based combat, a range of enemies and tactics, and vividly rendered companion characters including the forceful Driina and the grim mercenary Roland, there's a lot to discover... if you dare.

The Skald demo is now out and available, and the game will enter early access later this year on Steam and GOG. Why not check their thread out on Exilian and discover more?
---
Rbuxton's Development Diary
Master of Olympus. A board game journey featuring Test of Time, Diary #41 – Simple Pleasures
Used under CC license by, Richard Buxton.
What do you think of that image? This is all part of the building work that goes into the game development process. It is an ongoing development, where creativity, precision and an improvement plan is set up to design the games we all know, can't forget, and want to then create. We all like getting involved in discussions, here at Exilian.

This thread gets you to think about what it is that you're actually doing with areas where you can take a look at how much more captivating your game can be. That image, is taken from rbuxton's website where you'll find even more content to help you start, pick up where you left off or, make your project or game get more impact.

The great thing about the Development Diary is that there is something for everyone. From being a developer, to being a gamer or even just to read. We hope you pick up some great ideas and let us know about your game developments as well, we'll see you there!
---
The Many Projects Of Irongutz(A.K.A NanoTeq_RPG)
Here are some great Role Playing Games by Exilian's NanoTeq_RPG.

1. Flatline 2030: rules-lite tactical shooter cyberpunk RPG set in it's own timeline. Inspired by Deus Ex and NeoTokyo and featuring a 2d4 rules system (in current production).

2. Might Of Mourn: Ogre Kingdoms expansion to the WFRP 1e core rules!
Features:
- Rules and careers for Ogres and Gnoblars as PCs for the very first time, and some artwork and campaign by NanoTeq_RPG!
This is completed and you can find this listed on NanoTeq_RPG's Ko-Fi shop as a free gift to NanoTeq_RPG's OG supporter.

3. Heirs Of Ulthuan: A WFRP 1st Edition Eleven Compendium feauturing three kinds of elfs found in the Old World, feauturing unique careers, rules, equipment, and campaigns. A tome of three volumes, each featuring content centred around High Elves, Wood Elves and Dark Elves respectively (in concept stages).

You can find a lot more RPG updates in the thread below!
---
---
Sometimes, preparation for events later in the year can take place as early as now. Not quite there but Caradìlis has written a wolferful poem. That's actually quite good, for Halloween


Werewolf

Through the window shining bright,
Gleams the moon into the night.
And with torment, pain and ache,
An ancient curse keeps me awake.

Howling, cursing at the moon,
Wishing it was over soon,
Every full moon is the same,
On each one I curse my name.

That's a couple of verses from the poem, to find the full poem click the link below!
---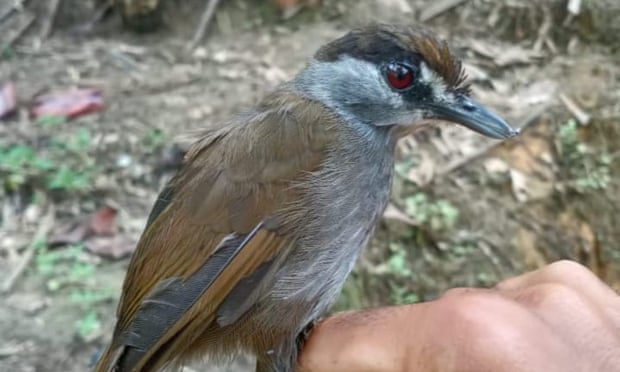 This thread is all about the yays of nature and we wanted to share one with you that really is cool. Jubal found a yay, here's a bit of the story!

The last time a Black-browed babbler was sighted was 180 years ago! But has been seen flying and doing well in Borneo


In the 1840s, a mystery bird was caught on an expedition to the East Indies. Charles Lucien Bonaparte, the nephew of Napoleon, described it to science and named it the black-browed babbler (Malacocincla perspicillata).

With its unique name, the Black-browed babbler has distinctive features and has surprised everyone that it is still thriving in the wild.

You can find out more by clicking the link, where Jubal talks about the history and links the article too!
---
---
---
Some news: Exilian Elections
A technical announcement for voting members & friends who care about the running of Exilian: as of May 30, we've reduced the number of elections per year from 2 to 1, so our volunteer staff will now be in post for year-long terms rather than six months. This was voted on by the voting members, as all changes of this type are on Exilian, and passed unanimously. As such, in future, we'll only be doing elections in December-January rather than also in June.

This change has been a long time coming: we've had six-monthly elections for many years. However, in recent years we've had fewer applicants for volunteer roles and a slower turnover of people in those roles, such that the time investment needed to run an additional half-year election didn't seem to be leading to additional member engagement or scrutiny. One year terms bring Exilian into line with most volunteer organisations around the world, and we hope that the reduced workload on elections will help all our volunteers work better on our members' behalf.

If you have any questions about this, or any other aspect of how Exilian is run, please do ask at any time in oue Questions & Suggestions forum!
---
At Exilian, we have suggestions for music, videos, and podcasts too. If you're out and about or just having a moment of relaxing during your day, it can be a good idea to listen to something that can interest you and get you to start thinking about something different.


Flamekebab - I don't know about you guys but one of my favourite things to listen to are podcasts. My listening habits tend to reflect my geeky nature but occasionally there's a bit of a wildcard.
- Flamekebab listens to: Press Play to Save (A rather friendly American show focused on video gaming), The Giant bombcast (having listened to the guys when they still worked for GameSpot as The Hotspot) and more...

- Othko97 likes: Hello Internet (A show which is basically just a conversation between educational videomakers CGP Grey and Brady Haran), Pragmatic (A show about the practical application of technology hosted by an electrical engineer, no longer in production) and more...

- Pentagathus recommends - Huberman labs podcast by Dr Andrew Huberman (It's pretty new, he's a neuroscientist who's research seems to be focused mainly on vision and the effects of light on circadian rhythm, sleep and mood etc but he's obviously well read in a load of other aspects of neuroscience.)

- Jubal says: James Holloway's Monster Man, about D&D monsters (and gods and suchlike) which comes out often enough that I can barely keep up with that. It continues to be very good though.

We have some great ideas from our Exilian community, what are yours?
---
We'll leave this newsletter with a laugh!
Jubal: "Not sure why this is as funny as it is, but I found it very enjoyable indeed"
---
---
We'll be back with another edition of our Newsletter in Autumn, but until then enjoy your summer (holidays, relaxing, being out again or simply, just taking care) and we'll be right back with more interesting, fun, and creative content! We hope this issue has given you some encouragement, ideas and a bit of light reading that has made a positive difference. We'll see you back here soon!