Posted on May 24, 2017, 04:44:51 PM by
Jubal
Board changes and recent downtime
Hi all,

As anyone who looks at the index will doubtless notice, we've done a big "crunching" of top-level boards to make the main site index less cluttered. There are still places to discuss everything, and any posts you might be looking for from the older forums will be available to view in the site archive.
Please let us know what you think of the new arrangements/order, whether there are any thread you think need retrieving from the archives, and whether you'd like to see any further simplifications in future.

You may also have noticed an hour or two of downtime earlier today. This happened as a result of a mislabelled security patch for our SMF software that required a higher version of PHP than our hosting providers give us access to. We are looking into what can be done in order to get future SMF patches, and we have rolled back to a backup version. The backup installation is a complex and somewhat tricky process, however, affecting many of the site's core files - if you find any forum functionality that appears to have stopped working or gives you error messages, please let us know in the forum discussion thread or by email at megadux@exilian.co.uk as soon as possible.

Many thanks and best wishes,

Jubal (Megadux)
...
Posted on May 02, 2017, 11:42:22 PM by
Jubal
Updates from the Forge 12: April 2017
EDITORIAL
April has rolled round and become May, so it's probably (past) time for April's issue of Updates from the Forge! It's been a busy month as usual, and the five projects featured this month are all either new or have made major jumps forward since we last looked at them, which is always nice to see!

Behind the scenes there's a lot of future planning going on around Exilian, and improvements being made - thanks in particular to Koobazaur for being a new CSS/tech volunteer for us and fixing the forum's image scaling/sizing issue. It's likely we'll archive some more unused forums soon to streamline what we have remaining, and plans for some new site-level ideas and projects are in the pipeline. If you think you can help with any of our organisation, social media, or staffing activity, please get in touch.

But anyhow... take a look at what we've got featured this month!

CONTENTS:

LIFE trailer released

There are Empires in the Undergrowth!

R3nnor!

The Songs of Westeros

The Spaceship just left the Shipyard..
---
LIFE trailer released!
A new trailer has come out for Jubal's classic-style Whovian adventure game LIFE, teasing some of the major planets, minigames, and other events in the adventure! Take a look:
LIFE is a mainly text based adventure with a range of puzzles to solve and minigames to play, based in the Doctor Who universe. It's being developed as a free hobby project and will cost you nothing to download and play when it's finished! You can find out more about LIFE, including upcoming beta testing opportunities, in the LIFE forum on Exilian.
---
There are Empires in the Undergrowth!
JeffNevington has recently been sharing the demo version of his ant-colony themed RTS, Empires of the Undergrowth. It's an impressively constructed piece of work with beautiful graphics, as worker and soldier ants scuttle around a range of scenarios and battle not only opposing colonies but huge, plodding beetles and other foes that tread heavy through the underground tunnels and can crush ants with a single bite of their powerful jaws. It's a gorgeous game and there's lots more to come, so definitely one to watch!
There's a lot to be said beyond the look as well, with innovative concepts such as commanding your ants via scent trails to give a high level of detail to the Empires of the Undergrowth experience. Enemy creatures also have a range of options, including toxic sprays, and there's already a balance between food storage, mining new areas, and more to be had as you build up your colony. Download to have a go yourself!
---
R3nnor!
A new platformer game project from ndnninja, R3nnor is a neat little 2d sidescrolling platformer with challenging jumps and obstacles across four well designed levels. Despite the foreboding look of those skyscrapers in the background, we're sure that the little dark blob-character is going to have some rather exciting adventures in the near future; adventure is always just one more platform away!
You can check out R3nnor's thread for more:
---
The Songs of Westeros
Jubal has recently been adding more of his "A Bard of Ice and Fire" songs to our Exilian Media YouTube channel. The new additions are the Baratheon and Greyjoy songs - the former a drum-beating marching song for soldiers treading their way through the rugged Stormlands, the latter a thumping sea shanty for sailing down the coast to raid the Reach or the Westerlands. There's lots of great content coming out on Exilian Media, so if you're not yet subscribed then head over and give the channel some likes & subscriptions! Here's the short Greyjoy sea shanty "We Do Not Sow..." as a taster...
---
The Spaceship just left the Shipyard...
...as a new demo of Space Shipyard has appeared, including the first battle demos, lasers, fires, and all the things you'd expect as you battle it out with other spaceships to keep your systems running and get your crew at battle stations!
Battles in Space Shipyard include a wide range of fast-paced tactical options, redeploying your crew members to put out fires and boost certain ship areas as well as being able to use vital special abilities such as high-powered shields and brutal blasting weapons as you attempt to ensure yours is the last ship standing. Opening bulkheads can help put out fires, but at the risk of starving parts of your ship of oxygen - will you manage to cope and lead your little crew to victory? Download the demo to find out...
---
Another month has rolled round and we've still got plenty for these issues - if you can contribute or think of more that should've been in here, please get in touch as usual.

That's all for now - see you next time for Issue 13...!
...
Posted on March 31, 2017, 11:59:22 PM by
Jubal
Updates from the Forge 11: March 2017
EDITORIAL

We've all had that homework piece or essay that we've forgotten about until terrifyingly close to the deadline - as I start writing this, it's 21:49pm on the last day of March and I haven't pre-written any articles, so I'm getting a wonderful re-living of my school experiences right now...

In site news - Exilian is now officially nine years old, which is an impressive achievement for a website that was expected on its founding to have a lifespan of around a fortnight, tops. We've had another quiet month thanks to some staff being called off to conferences and terrifying bits of reality, but there are some big plans afoot to improve how we get content out and link up parts of the site which will hopefully come into being more seriously in April. I should also mention that our twitch channel is doing very well and building up a following, mostly for folk watching No1 Croat Fan and friends' madcap attempts to complete Russian lumberjacking simulator game SpinTyres. If you'd like to come along and chat to the team, broadcasts are usually on Saturdays and you can visit and subscribe to the channel here.

Without further ado - here's Updates from the Forge, Issue 11!

CONTENTS:

Between a rock and a hornet queen - My Mom's A Witch updates

Cloudhaunts and more from Utherwald Press

Mr. Molotov Man strikes again...

New Music on Exilian Media

Introducing ScreenAdventure!
---
Between a rock and a hornet queen - My Mom's A Witch updates
There are some fantasic new updates available on Bigosaur's My Mom is a Witch! Of particular interest are two new level-end bosses. The first is the earth golem, who stands at the end of the forest level with a devastating new range of attacks for more experienced players including meteor showers and turning its whole body into a rolling boulder. There's also a hornet queen who inhabits the battlements in place of the dragon in some games, and has deadly poisoned attacks and the ability to spawn new hornet enemies like this little blighter: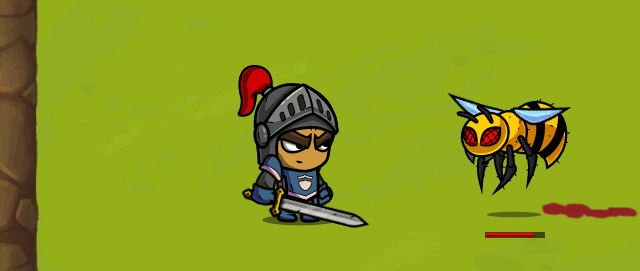 That's not all, of course. There are new items, too, including the shepherd staff, and new bonus areas in the forest including the ability to tame boars to your side! You can finally meet the King, too, and play as the fruit-producing sorceress character. With all that and more, there's increasingly a vast and diverse amount of content available in this increasingly wonderful adventure.
---
Cloudhaunts and more from Utherwald Press
Utherwald Press' most recent update has focussed back on a redesign of the deadly Cloudhaunts, winged pack-hunting mammals with ferocious appetites and the ability (and motive) to attack planes and airships in large numbers. Clouds of them descending out of the sky (with new rules available on the Utherwald website) will no doubt ruin many a player's day - and possibly also their plane, airship, and/or life expectancy in the process!

Other update topics this month have included the nomadic skykin, travelling wanderers of the airways akin to the more ground-dwelling genchi, and the regal class skyship, a powerful battle cruiser with several mighty cannon ready to pound volleys of fury into the enemy. The world of Aleyska is still very much being built up week by week, and it's always exciting to see more of it come together. Click the link below to enter the frozen skies!

---
Mr. Molotov Man strikes again...
A spin-off from Koobazaur's excellent story-game about the dangers and pitfalls of journalism and sensationalism, Headliner, the minigame Mr. Molotov Man is... different in style. Who Mr. Molotov Man is we never find out. Is he a criminal? A terrorist? An anarchist, a freedom fighter? Simply a pyromaniac? One thing, and only one, is for certain: he has a literally infinite number of molotov cocktails and a city to destroy.
From this premise comes the game - start wandering an empty street, and then as the emergency (and the fire, and the mass of burning people, bins, and cars) develops further, successive waves of futuristic police come to try and take down the Molotov Man before he can kill more. Face basic street cops, laser-wielding robot drone police, and more, as the conflagration and conflict continue! If you want some mindless fun and a LOT of flames, this is a great place to start.
---
New Music on Exilian Media
The Exilian Media Channel has seen a range of extra music released recently. With the announcement of the new season of Game of Thrones just out, we've appropriately had two extra songs from Jubal's A Bard of Ice and Fire song collection recorded and put up on the channel - The Knights of Summer for House Tyrell, chivalrous masters of the Reach, and The Black Flower, a song for Targaryen loyalists to look forward to the day when their Valyrian-descended masters return in power to Dragonstone and claim Westeros as their own once again.

Bu that's not all! We've also got several other new videos up this month, including poetry reading for world poetry day, and, most recently, Age of Kings - an original lyric set by Jubal that fits to the tune of the Age of Empires theme music.

Please remember to subscribe, and take a look at what we're producing!
---
Introducing ScreenAdventure!
Dey505, creator of Old Adventure, returns with a new kickstarter for another platforming game, ScreenAdventure! In this puzzle-platformer you'll have a range of characters available to quest through many different levels with a window that moves across and around your computer screen! Boasting complex and innovative level design ideas, there will be a great range of stuff to look at! You can take a look at the recently released kickstarter campaign and videos of the project in development at the links below:

---
As usual, let me know if you have extra items for Updates and I'll try and make sure to include them - we're happy to cover academic and creative projects of all sorts as long as they're posted somewhere around the forum, and we'd always like to have more items and the widest range of stuff possible.

See you at the end of April for the next issue of Updates from the Forge!
...
Posted on March 01, 2017, 12:56:06 AM by
Jubal
Updates from the Forge Issue 10: February 2017
EDITORIAL

February is often a quiet month - but despite that, there's been a surprising and exciting range of projects coming through across the site, especially with some new faces in the newly revamped Indie Alley forums as you'll no doubt see below. There's some exciting stuff coming up here, with tactical RPGs, tabletop RPGs, and puzzlers all making their appearances. As ever, let us know what you think about the format and do go and check out these great projects, many of which have free demos that you're welcome to download and check out.

Elsewhere in site news, we can announce that our Cyril & Methodius Day fundraising campaign raised over £150 for the wonderful Room to Read charity, who focus on supporting literacy teaching and skills in developing countries - that's nearly double last year's total, and a great improvement that will change the lives of people who really need it. For those who want to know more, check out our explanatory Cyril & Methodius Day thread to see what we were up to on Feb 14! We've also had some significant forum restructures, which we're hoping will make it easier for people to find what they want in a more compact setup. Let us know what you think by commenting here or using the Q&S forum!

And so, we're onto February's Updates from the Forge - this is now this newsletter's tenth monthly issue of letting people know what's going on across Exilian!

CONTENTS:

The Spell is being cast...

Into the depths of Norbayne's past!

SpyDNA - have you got the genes for it?

Into a wonderland of stars - Fireball XL5 Guide released!

Mind Machine Interface - a mind-bending puzzler
---
The Spell is being cast...
The Spell is a top-down, high-powered, high destruction RPG where you take on the role of Arik, one of a small order of exceptionally powerful wizards capable of bending the world to their will who must face up to the unexpected return of his brethren after his long years in exile. The detailed combat mechanics require both reflexes and a fast battlefield intellect, hurling tables, rocks, and flames at your enemies but with limited reserves of precious magical power to spare. There are also puzzle areas where the different wizards have constructed fiendish mazes for you to navigate, including numerous alternate ways to use your magic and some hidden secrets here and there as well!
Check out The Spell, and play & discuss the game at the link below:
---
Into the depths of Norbayne's past!
Phoenixguard's Norbayne tabletop RPG setting has yet more work continuing on it, including new combat tests and decisions over which races and classes to include. There are significant tweaks being made all the time, with recent announcements including the presence of the satyr-like Jeleni, agile and fast fighters and travellers from the Westrand archipelago. Huge amounts of new information have also been release on the timeline of Norbayne's past. New details include discussions of the Primordial Age, when god-like beings formed the world as it now exists, and the Mythic Age, when the first Stormlord came to power and the Roanfaille made their everlasting and accursed pact to save their lives...

Sound exciting? Take a look and find out more!

---
SpyDNA - have you got the genes for it?
This new tactical spying RPG is in early stages, but it's looking very promising. In an immersive, beautifully rendered setting, you are the captain of the SpyDNA program, cryogenically held in stasis between vital missions where you will be brought out to serve your country. These may be simple cases of eliminating a target or a rescue mission, or they may be far more complex tactical missions with firearms blazing and your team at your back. There's a good setting being built around it too, with an unusual and interesting character creation setup that works by quizzing you on situational responses, and detailed dialogue trees so you can start getting used to the world and its characters.
All in all this is looking very promising, and demo feedback is wanted, so do head on over and try it out!
---
Into a wonderland of stars - Fireball XL5 Guide released!
Jubal's epic quest through the entirety of Gerry Anderson's puppet sci-fi classic has finally ended, resulting in a full episode guide with reviews of all thirty-nine episodes of Fireball XL5! With stories ranging from the star-trotting to the bizarre, Fireball XL5 - a precursor to the more famous Thunderbirds - used innovative puppetry techniques to portray the Space Patrol crew of Fireball XL5 as they went on many adventures and saved both themselves and the universe from numerous cackling villains. Jubal's reviews go through the ups and downs of the series, looking at how the show has dated and which bits of Anderson's work have stood the test of time.
From the beautiful planet Olympus, to the reaches far beyond known space, to the great spinning tower of Space City, there's a great deal to be found in the Fireball universe. Take a look and discover a whole new world - in fact, several!
---
Mind Machine Interface - a mind-bending puzzler
This mind-bending new game throws a set of fiendish puzzle challenges at the player. Not for the faint of mental strength, the flickering colours and numbers of the mind machine will have you gripped as you try to figure out the solution to each puzzle. The simple set of tools and options shouldn't fool you - there's a wide range of puzzles covering different themes including "data repair", "image rotation", and much more, all of which will require some very particular tricks to make work. The demo is already very well worth working through, with some extremely tough puzzles and good brainteasers to torture the mind of all but the very finest puzzle experts.

Mind Machine Interface's creator izark has asked for feedback on "graphics, bugs, difficulty, anything you want to talk about" - so do head on over and take a look at the demo (though beware, you may be there for a few hours longer than you expect! The game's also on Steam Greenlight right now and is looking very well worth an upvote.
---
If you've got something in development or want to help write Updates, please do get in touch as usual! In the next month we have Exilian Day on the 18th - our ninth birthday - and no doubt many more new releases and other excitements besides. All that awaits - do join in, say hello, and become part of what we're doing, there are many great projects across the site and YOUR support could be crucial for them.

Hope to see you in a month, for the next issue of Updates from the Forge!
...
Posted on February 14, 2017, 01:14:21 PM by
Jubal
Happy Cyril and Methodius Day!
Happy Cyril and Methodius Day!
It's Cyril and Methodius Day - Exilian's annual celebration of languages, linguistics, and literacy. Today's a day to hug a friendly linguist, talk to your friends in other countries, read a book, learn a new language, and much much more. Do drop by on our
official thread
and say hello, and do spread the word as well! We're also, as last year, fundraising for the Room to Read charity which spreads the gift of literacy in developing countries. If you'd like to donate, please do - all money goes straight to the charity, and it would be great to beat our £85 total from last year. Besides that - enjoy the alphabets and excitement, and have a great Cyril & Methodius Day